If I Die Today Will I Go To Heaven?
Jesus Says
"A Man Cannot See or Enter

The

Kingdom Of God
Unless He Is Born Again (Of God)"
We All Fall Very Short Of God's Glory
We Are All Born Sinners – Spiritually Dead To God!
God

In

Love Made The Way Back To Himself
Through Jesus Christ
God Demonstrates His Own Love

For

Us
In That While We Were Sinners
 

Christ Died For Us
Romans 5:8
<![if !vml]><![endif]>
 

Jesus Says
"I Am the Resurrection and the Life
He who believes in

Me

though he may die he shall Live
And whoever lives and believes in me shall

Never

die"
John
11:25-26
 

Born Once And Die Twice!
Or
Born Twice We Die Only Once!
Where Will You Spend Eternity?
Why not cross over today and be Sure of Heaven!
 "Seek The Lord While He May Be Found
Call On Him While He is Near"
All Born Spiritually Dead To God
<![if !vml]>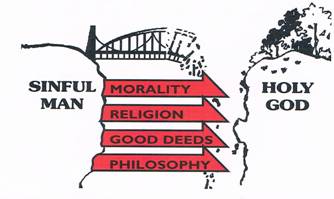 <![endif]>
"All have sinned and fall short of the Glory of God"  
"All of us have become like one who is unclean, and
All our righteousness is like filthy rags
We all shrivel up Like a leaf and like the wind our sins sweep us away"
"As in Adam all die; even so in Christ all shall be made alive"
Romans 3:23 - Isaiah 64:6 – 1 Corinthians 15:22
All Justly Under God's Wrath
"Man is destined to die once and after that to face the judgement"  "Death and Hades were thrown into the lake of fire"
"The lake of fire is the second death".
God's Solution And Good News For You
"The Lord, the compassionate and gracious God, slow to anger Abounding in love and faithfulness"
The Lord is not slow in keeping His promise. He is patient with You. Not wanting ANY to perish, but Everyone to Come to Believe in His Son's Work of salvation  
"Believe in the Lord Jesus Christ and you Will be Saved"
Hebrews 9:27 - Revelation 20: 14-15 - Exodus 34;6-7 - 2 Peter 3:9 – Acts 16:31
God's Solution For Sin And Pardon For All
In The Person Of Jesus Christ God Became A Man
And Freely Received The Punishment For Our Sin
"God so loved the world that He gave His only Son
That whoever BELIEVES in Him shall not perish
But have eternal Life"  - "God did not send His Son
Into the world to condemn the world but to save it"
John 3:16-18
Seek Me And Live!

Jesus' Invitation To You
"Come to me, all you who are weary and burdened and
I will give you rest. Take my yoke upon you, and learn from me For I am gentle and humble in heart, and you will find rest for Your souls for My yoke is easy and my burden light."
 Matthew 11:28
God's Free Gift To All
<![if !vml]>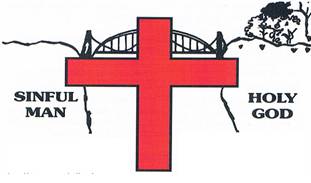 <![endif]>
 "God demonstrates His own love for us in this:
While we were sinners Christ died for us"
"He Himself bore our sins in His body on the tree" 
"God made Him who had no sin to be sin for us
So we can become the righteousness of God in Him"
 Romans 5:8 - 1 Peter 2:24 - 2 Corinthians 5:21
By His Resurrection Jesus Has Victory

Over

Death
"I am the resurrection and the life, he who
Believes in me will live even if he dies, and he who lives
And believes in me, will NEVER die"
John 11:25
But God Is Gracious Not Wanting Any To Perish!
But All

To

Be Saved
 "For by grace you are saved THROUGH FAITH and this NOT from yourselves. It is the GIFT of God, NOT by works, so that No one can boast (in his own good deeds before God)" - "He saves us
Not by righteous things we have done, but because of His Mercy"
Jesus Is The Only Way To God?
Jesus says,
"I am the Way, the Truth and the Life.
No one comes to the Father except through Me."
"I am the gate; whoever enters through ME SHALL be SAVED."   
Ephesians 2:8-9 - Titus 3:5 - John 14:6 - John 10:9
Will You Believe In Jesus Christ And Receive
God's Foregiveness And Pardon for All Sin?
"Whoever believes in Him is Not condemned, but whoever does not Believe stands condemned already, because he has Not believed
In the Name of God's One and Only Son."
 John 3:18
 A Prayer  To God For Those Who Wish to Believe  
Come To God and BE BORN AGAIN By Believing In Jesus Christ        
This assures us of a life with God and
Saves us from the Eternal Judgement
Revelation 20: 11-15
" Lord God, I believe that Jesus Christ your Son was punished
On the cross for all my sins, was buried and arose again.
As a sinner, I now Accept His finished Work of salvation"
God's Acceptance Of You and Assurance To You
Jesus Christ says
"I give you eternal life, you shall Never Perish,
No one can snatch you out of My Hands" - "I will Never leave you, nor Forsake you"  - "I will supply all your needs according to my
Glorious riches" – "I will forgive your sins and remember them
No more" – Your transgressions I Will Remove from you
As far as the east is from the west
 John 10:28 - Hebrews 13:5 – Hebrews 8:12 – Psalm 103:12
Two Of God's Many Promises For You
"I will wipe every tear from your eyes. There will be No more death, No more mourning No more crying or pain.
The old order of things has All passed away, I make everything new" – To Him who is able to keep You from falling and present you faultless before
His glorious Presence, with Exceeding Joy"  
Revelation 21:4 - Jude 24
Now Saved – Live A Life Worthy of God's Calling!
Just as you have received Christ Jesus as Lord by faith
Continue to live by faith in Him. Ask Him to show you what pleases Him
Read God's Word in the bible - To Guide you daily
Contact Keithtab@bigpond.com
Read about Christian living: Go to www.seek-the-lord.info
Search the bible verses Go to www.biblegateway.com
Call Keith on 0488 667 518 and Leave a message
Good Bible Teaching – www.lesfeldick.org