The Tabernacle – The Home of God
The Colours and Intent of Jesus Christ
The Messiah – The Saviour of the World
The Tabernacle is Jesus Christ Our King. Jesus Christ is The Tabernacle.
Every colour, every piece of material and clothe, every piece of furniture.
Every sacrifice, every feast and festival day, all portray Jesus Christ and His Love for all, for Israel and both for you and for me.
Nothing happened without a meaning. Everything pointed to a future happening and a future people who were to become a nation of priests.
As we look at the Tabernacle we will examine the relationship between Christ and Israel and then examine it as it prophetically pointed to Christ and His Church (the kingdom of priests and His adopted son's).
The location of the Tabernacle
The Tabernacle was the dwelling (House) of God and it was right among them. It was the centre of their camp life. It was built about 1441 BC.
<![if !vml]>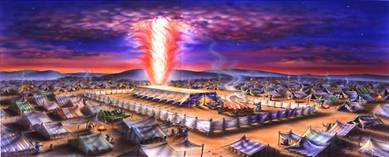 <![endif]>
The message of the Tabernacle is depicted in The Lord God's Name Emanuel. Emanuel means God with us. God prophesies many events in history, many prophecies relate to Jesus Christ (Emanuel-The Messiah) and His Church.
Prophecy: Isaiah 7:14
"The Lord Himself will give you a sign; the virgin will be with child and give birth to a son and will call Him Immanuel."
Prophecy: Isaiah 9:6
"To us a child is born to us a Son is given, and the government will be on his shoulders. And He will be called wonderful, counsellor, Mighty God, Father of eternity, Prince of Peace"
<![if !supportLineBreakNewLine]>
<![endif]>
Prophecy fulfilled: Matthew 1:18-23
"All this took place to fulfil what the Lord had spoken through the prophet: The virgin will be with child and will give birth to a Son, and they will call Him Immanuel, which means God with us."
Prophecy Fulfilled:  Luke 1:26-35
"In the sixth month, God sent the angel Gabriel to Nazareth, a town in Galilee, to a virgin pledged to be married to a man named Joseph – You will be with child and give birth to a son, and you will give Him the Name Jesus."
Prophecy fulfilled for the church: God with us Ephesians 2:22
"In Him you too are being built together to become a dwelling in which God lives by His Spirit."
Prophecy fulfilled for the church: God with us 2 Corinthians 13:5
"Do you not know that Christ is in you."?
The Purpose of the Tabernacle
The purpose of the Tabernacle was to display in a very graphical way, mankind's condition before God of spiritual death, God's judgement, our helplessness and our inability as creatures, His Mercy and ability to solve this great human problem before God. The Tabernacle showed our eternal separation from Himself, our separation from His goodness and loving provision, forever and ever.
The tabernacle graphically displays our need for God to come down from heaven, and provide the solution, which we could not provide for ourselves. This one and only solution being accomplished through the substitutionary sacrifice of His Son, Jesus Christ for us. This was portrayed in various animal sacrifices.
The Messiah, Jesus Christ paying the redemption price for each of us, and clearing our debt of sin to God by providing the way, so that each person in the human race, can be willingly restored to Himself and have the rift between God and man healed and so bringing us back to Himself.
It is all the work of God the Heavenly Father and His Son Jesus Christ, providing one solution and One Way.
The Key Words of the Tabernacle
Messiah – The anointed One.

Substitution – We go off and Jesus Christ comes on. He pays we don't

Righteousness – The complete absolute perfection of God – White

Redemption – The blood price God has to pay for us, to set us free – Silver

Expiation – Make amends for wrongdoing

Atonement – To completely cleanse and wash us clean from sin
Creating At-One-

Ment

.

Propitiation – God's satisfaction with the sacrifice of His only Son.

Imputation – To give His righteousness to humans, through faith alone.

Justification – To declare a person righteous (guiltless) before God.

Reconciliation – The estranged relationship between God and man renewed and intimate once again.
<![if !supportLineBreakNewLine]>
<![endif]>
Jesus said, John 14:6
"I Am the Way, the Truth and The Life. No one comes to the Father but though Me."
Acts 4:12
"Salvation is found in no one else, got there is no other Name under heaven given to men, by whom we must be saved."
S
cripture taken from the HOLY BIBLE, NEW INTERNATIONAL VERSION®. Copyright © 1973, 1978, 1984 International Bible Society. Used by permission of Zondervan. All rights reserved.
T
he "NIV" and "New International Version" trademarks are registered in the United States Patent and Trademark Office by International Bible Society. Use of either trademark requires the permission of International Bible Society.