The Barrier
An Impassable barrier exits between God and man, as indicated by the
Red, White, Blue and Purple Curtains of the Tabernacle.
If anyone dared to come to God in an unauthorised manner into the
"Holy of Hollies" or the "Holy Place" they died instantly.
Just as Cherubim guarded the way to the Garden of Eden, so they keep watch in the sanctuary, being on the Ark of the Covenant and embroidered throughout the tabernacle.
God
<![if !vml]>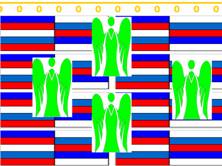 <![endif]>
Man
This barrier is disagreeable to God as He desire a permanent relationship with us, but in a way that doesn't defame or impugn His righteousness. God must be just when He declares anyone Righteous (Justified).
Romans 3:25-26
"God presented Him as a sacrifice of atonement, through faith in His blood. He did this to demonstrate His justice, because in His forbearance He had left the sins committed beforehand unpunished, He did it to demonstrate His justice at the present time, so as to be just and the one who justifies those who have faith in Jesus."
Gods desires for mankind.
Ezekiel 18:32
"I take no pleasure in the death of anyone declares the Sovereign Lord. Repent and live."
2 Peter 3:19
"The Lord is patient with you, not wanting anyone to perish, but everyone to come to repentance."
John 10:10
"The thief comes to steal, kill and destroy, but I have come that you might have life and have it to the full."
The Several Contents of the Barrier
Sin
Mankinds Problem
Romans 3:23
"All have sinned and come short of the Glory of God"
Isaiah 53:6
"All we like sheep have gone astray, we have each turned to our own way."
Jeremiah 17:9
"The heart is deceitful above all things and desperately wicked (beyond cure). Who can understand it."
Gods Solution!
1 peter 2:24
"He Himself bore our sins in His body on the tree, so that we may die to sins and live for righteousness, by His wounds we are healed."
Isaiah 53:6
"The Lord laid on Him the iniquity of us all."
2 Corinthians 5:21
"God made His who had no sin, to be sin for us, so that we could be made the righteousness of God, in Him."
Penalty of Sin
Mankind's Problem
Romans 6:23
"The wages of sin is death"
Hebrews 9:27
"Man is destined to die, and after that to face the judgement."
Matthew 7:13
"Wide is the gate and broad the way, which leads to eternal destruction, and many enter through it."
Revelation 20:15
"Death and Hades were thrown into the lake of fire, the lake of fire is the second death"
<![if !vml]>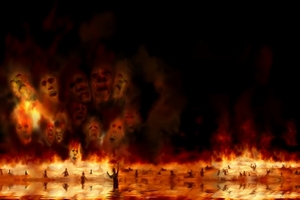 <![endif]>
Gods Solution!
Romans 8:1
"There is now no condemnation for those who are in Christ Jesus."
John 5:24-25
"I tell you the Truth say's Jesus, He who hears my words and believes Him who sent Me will not be condemned, he has crossed over from death to life."
Romans 5:9
"Since we have been justified by His blood, how much more shall we be saved from God's wrath through Him."
There are no Atheists in fox holes or bushfires
Human Birth
Mankind's Problem
Psalm 51:3
"Even from birth the wicked go astray"
Psalm 51:5
"I was sinful at birth, sinful from the time my mother conceived me."
Gods Solution!
John 3:3-16
"No man can enter the kingdom of God unless he is born again, for flesh gives birth to flesh and Spirit gives birth to Spirit."
Titus 3:5
"He saved us not by righteous things we have done, but because of His mercy. He saved us through the washing of re-birth and renewal by the Holy Spirit."
Human Righteousness
Mankind's Problem
Isaiah 64:6
"All of us have become like one who is unclean and all our righteous acts are like putrid rags. We all shrivel up like a leaf and like the wind our sins sweep us away."
Romans 9:31
"Israel who pursued a law of righteousness has not attained it. Why not? Because they pursued it not by faith, but as it were by works."
Gods Solution
Romans 5:19
Just as through the disobedience of one man, the many were made sinners, so also through the obedience of one man the many will be made righteous."
Philippians 3:9
"Being found in Him, not having a righteousness of my own that comes from the law, but that which comes through faith in Christ, the righteousness that comes from God and is by faith."
Character of God
Mankind's Problem
Romans 8:8
"Those controlled by the sinful nature cannot please God."
Hebrews 11:6
"Without faith it is impossible to please God."
Isaiah 1:11-16 
"The multitude of your sacrifices-What are they to me? Says the Lord. I have more than enough of burnt offerings of rams and fattened animals; I have no pleasure in the blood of bulls, lambs and goats and lambs. --- They have become a burden to Me; I am weary of bearing them."
Gods Solution
1 John 2:2
"He is the atoning sacrifice for our sins, and not for our sins only, but for the sins of the whole world."
Position in Adam
Mankind's Problem
1 Corinthians 15:22
"In Adam all die."
Romans 5:12
"Just as sin entered the world through one man, and death through sin, and in this way death spread upon all men, because all have sinned."
Gods Solution
1 Corinthians 15:22-23
"In Christ shall all be made alive, but each in his own

turn

, Christ the first fruits; then, when He comes, those who belong to Him."
This barrier was erected by one mans sin in the "Garden of Eden". One Man, in accordance with the promised Messiah, solved the barrier problem.
Genesis 3:14-15
Mankind has many different human solutions for this barrier.

<![if !vml]>

<![endif]>
 Mans tries to blasts his way through   Gods "Goodness" barrier, with human Goodness. !!!
Jeremiah 13:23           
"Can the Ethiopian change his skin or the leopard change his spots? Neither can you do good who are accustomed to doing evil."
<![if !vml]>

<![endif]>
Some try to bulldoze the kindness of God's barrier, with his own kindness"
Romans 2:4      
"Do you show contempt for the riches of His kindness, tolerance and patience, not realizing that God's kindness leads you towards repentance."
<![if !vml]>

<![endif]>
Some try to ease their burden of guilt, by trying to lift their burden of guilt up and over the barrier thus quashing their guilt before God, by unsatisfactory living, according to the law.
Matthew19: 16-2 (The rich young man)
"What good thing must I do to get eternal life."
<![if !vml]>

<![endif]>
Man tries to undermine the "Righteousness Barrier", with his own "Righteousness"
Romans 10:3
"Since they did not know the righteousness that comes from God and sought to establish their own righteousness, they did not submit to God's righteousness."
<![if !vml]>

<![endif]>
Some try to race around and short cut the barrier with speed and ability, just so they can be proud and boast in their human effort.
Ephesians 2:8-9
"By grace you are saved and that not from yourselves. It is a gift from God not by works, so that no one can boast"
<![if !vml]>

<![endif]>      <![if !vml]>

<![endif]>      <![if !vml]>

<![endif]>      <![if !vml]>

<![endif]>              <![if !vml]>

<![endif]>        <![if !vml]>

<![endif]>
Some try to pray and study the bible, keep the Ten Commandments and partake in other "Religious works, rituals and practices" to gain God's approval.
John 5:39
"You think by examining the scriptures you possess eternal life."
Christ fulfilled all the righteous demands of the law by His life.
Atonement and cleansing occurs at the cross.
Propitiation occurs at the cross.
Forgiveness occurs at the cross.
Reconciliation occurs at the cross.
Peace with God occurs at the cross
S
cripture taken from the HOLY BIBLE, NEW INTERNATIONAL VERSION®. Copyright © 1973, 1978, 1984 International Bible Society. Used by permission of Zondervan. All rights reserved.
T
he "NIV" and "New International Version" trademarks are registered in the United States Patent and Trademark Office by International Bible Society. Use of either trademark requires the permission of International Bible Society.