The Fire of the Tabernacle
Prophecy: Matthew 25:41
"Then He will say to those on His left. Depart from Me you who are cursed into the eternal fire prepared for the devil and his angels"
Prophecy fulfilled: Revelation 20:11-1
"If anyone's name was not found written in the Book of life, he was cast into the lake of fire"
Fire is a symbol of God's Holiness and expresses God three ways
1: Showing Himself in what He approves
Exodus 3:2 -     The burning bush.
1 Peter 1:7 –     The refining of suffering to make us of finer gold.
Exodus 13:21 – The Lord protects and leads by a cloud or a pillar of fire
2: Judging that which His Holiness completely condemns
Genesis 19:24   - Sodom and Gomorrah
Mark 9:43-48   - The abuses of the Eye, Hand and Foot.
"Cast into hell: Where the worm does not die and the fire is not quenched"
Revelation 20:15 -         The Lake of Fire
"If anyone's name was not found written in the Book of Life, He was cast"
Events of the final judgement
<![if !vml]>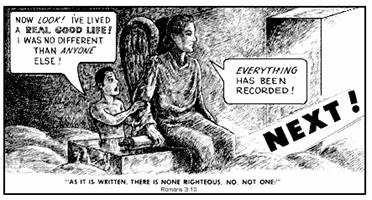 <![endif]> 
<![if !vml]>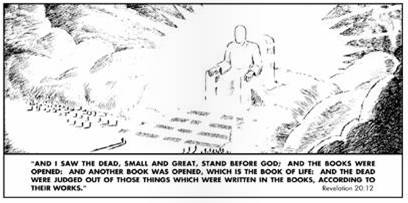 <![endif]> 
<![if !vml]>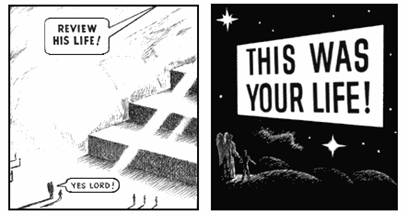 <![endif]>
<![if !vml]>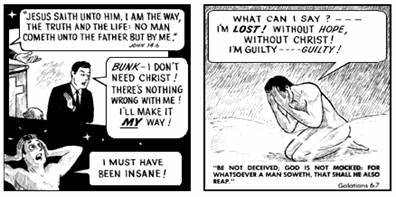 <![endif]>
 <![if !vml]>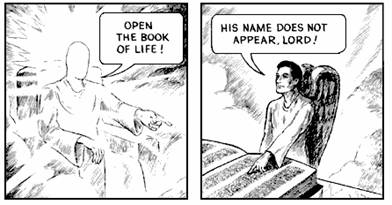 <![endif]>
<![if !vml]>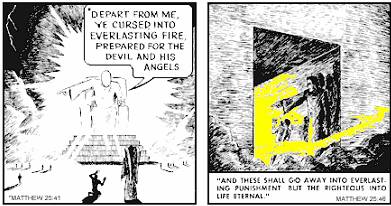 <![endif]>
<![if !vml]>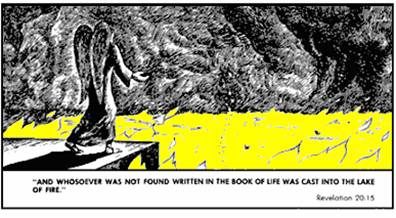 <![endif]>
"Copyright 1972 by Jack T. Chick. Reproduced by permission of Chick Publications. Website: www.chick.com"
3:         He Shows Himself as the Purifier
The judgement\Evaluation Throne of Christ
1 Corinthians 3:12        
Jesus is like a refiners fire and launders soap
Malachi 3:2-3
The fire on the Bronze Alter was always alight, burning up
completely what was offered.
He went through hell, so we need not and has provided for God's salvation for us, no matter how sinful we are or have been!
Isaiah 53:6
"All we like sheep have gone astray, we have each turned to His own way and The Lord has laid on Him the iniquity of us all"
1 peter 3:18
"Christ died for sins once for all, the righteous on behalf of the unrighteous, to bring you to God."
Acts 4:12
"Salvation is found in no one else, for there is no other Name under heaven given to men by

which

we must be saved."
"Artwork Copyright © by Duncan Long. All rights reserved.
Used with permission of the artist."
The Churches Hope and Confidence
Romans 8:1
"There is now No Condemnation for those who are in Christ Jesus, because Christ Jesus the law of the Spirit who in the source of Eternal life has set me from the law of sin and death"
Hebrews 7:25
"Now to Him who is able to save completely, those who come to God through Him, because He always lives to intercede for us"
Jude 24
"Now to Him who is able to keep us from falling and to present us before Him glorious presence without fault and with exceeding joy"
S
cripture taken from the HOLY BIBLE, NEW INTERNATIONAL VERSION®. Copyright © 1973, 1978, 1984 International Bible Society. Used by permission of Zondervan. All rights reserved.
T
he "NIV" and "New International Version" trademarks are registered in the United States Patent and Trademark Office by International Bible Society. Use of either trademark requires the permission of International Bible Society.