The Tabernacle was comprised of the following courts and Holy Rooms

1: The Outer Court




2: The Holy Place




3: The Holy of Holies

Within these courts most of the activities related to the tabernacle took place. These activities included the animal and food sacrifices, the various activities of the "Levitical Priest Hood", all of which we shall take a closer look at in the following lessons.

<![if !vml]>

<![endif]>Today's Key Word – Messiah (The Anointed One)

Let's start by seeing what the bible says about Courts and Holy Rooms.

(Please fill in the blank spaces)

"Better ____________ in Your courts than a thousand elsewhere. I would rather be a _____________in the house of My God than dwell in the ________the wicked"




Sword Drill: Psalm 84:10

"Enter His gates with ___________________! And

His courts with __________ give thanks to Him and praise His Name"




Sword Drill: Psalm 100:4

King David through the Holy Spirit was saying that God's way of salvation, His fellowship (companionship), His Word and His plan for mankind, is the only plan that will bring peace with God and the happiness that will sustain mankind both now and forever.

God's solutions are the only solutions worthwhile.

The Tabernacle Courts and Holy Rooms

<![if !vml]>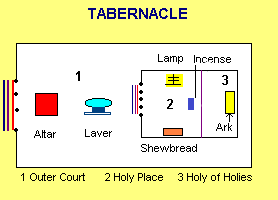 <![endif]>

The Tabernacle Courts and Two Holy Rooms

Please answer the following questions! After looking at the outlay above
What are these items of the Tabernacle furniture, which are found in the courts of the Tabernacle?




Sword Drill Exodus 27 1-6:
_____________________________________<![if !vml]>

<![endif]>




Sword Drill Exodus 30:17-20
________________________________________<![if !vml]>

<![endif]>

Sword Drill Exodus 25: 23- 30
_______________________________________<![if !vml]>

<![endif]>

Sword Drill Exodus 25:31 – 39
_______________________________________<![if !vml]>

<![endif]>

Sword Drill Exodus 30:1-5
________________________________________<![if !vml]>

<![endif]>

Sword Drill Exodus 25: 10-16

__________________________________<![if !vml]>

<![endif]>

The White Curtain Around the "Tabernacle"




Speaks of The"Righteousness"  and The "Pure Perfection of God"

Sword Drill: Revelation 1:14 - Sword Drill: Revelation 3:4

There was "No access" apart from through




"The Main Etrance Gate"

The "Entrance Gate" and other Entrance Curtains were made of "Finely Twisted Linen" of Blue, Purple, White and Red of the Curtain Barriers

Jesus said "I Am The _______, The Truth and The Life. No one come to The Father but by _____T




Sword Drill: John 14:6

White speaks of the Righteousness and Perfection of Jesus Christ




Red speaks of the Sacrifice of Jesus Christ




Purple speaks of the Royalty (Kingship) of Jesus Christ




Blue speaks of Heaven, the home of Jesus Christ

Tabernacle Courts and Two Holy Rooms

The Only Way Too God is Though Jesus Christ

Main Entrance Gate to the "Court Yard"

<![if !vml]>

<![endif]>

(Gods Righteousness <![if !vml]>

<![endif]> (Gods Righteousness
<![if !vml]>

<![endif]>

<![if !vml]>

<![endif]>

Priestly Entrance to The "Holy Place"

<![if !vml]>

<![endif]>

<![if !vml]>

<![endif]>                  <![if !vml]>

<![endif]>

<![if !vml]>

<![endif]>

The High Priestly Entrance to The "Holy of Holies"

(The Barrier represents all that stands between God and Man)




(The Barrier is in Lesson 18)

<![if !vml]>

<![endif]>

No entry without the Blood of the sacrifice

<![if !vml]>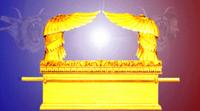 <![endif]>

The Holy of Holies represents Heaven – "The Throne Room of God"




Tabernacle Courts and Two Holy Rooms

A Command from God - To You!
"Love your neighbour as yourself"




Sword Drill: Leviticus 19:18

Proverbs from God - To You!




"To do what is right and just is more acceptable to the Lord than sacrifice"




Sword Drill: Proverbs 21:3

"To obey is better than sacrifice"
Sword Drill: 1 Samuel 15:22

Promise from God - To You!
"I will Never leave you not forsake you"!
Sword Drill: Hebrews 13:5



Prayer: Dear Heavenly Father:
"Thank you for all You have done for us in sendingand sacrificing your Son for our sins on the cross! "
Amen!
S
cripture taken from the HOLY BIBLE, NEW INTERNATIONAL VERSION®. Copyright © 1973, 1978, 1984 International Bible Society. Used by permission of Zondervan. All rights reserved.